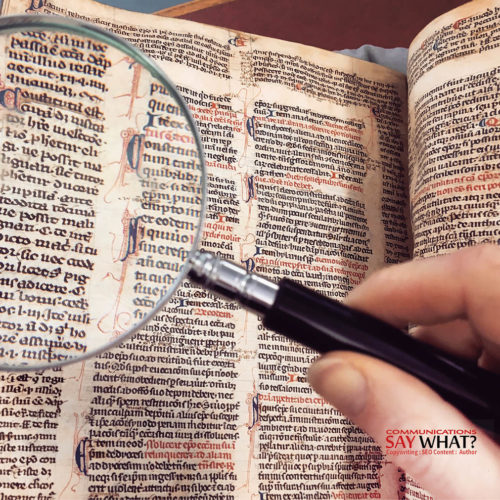 Essentially a content marketing strategy looks at how your content marketing can be integrated with your other marketing and sales strategies to answer questions such as:
Who are my ideal buyers and what do they seek during their buying journey and preferred communication channels? What problems do they want solved?
What marketing and organizational goals can we achieve with strategic SEO content marketing? These goals may include building brand awareness, conversion optimization, lead generation, email marketing, social media marketing or improved customer service.
What is my customer life cycle and the different customer touch points?
Which content marketing metrics and KPIs will help us gauge the success of our content marketing efforts? Content marketing is not an isolated activity which means it's crucial to implement consistent marketing metrics across all your business activities
How is my industry changing? More specifically, how is my ideal buyer's journey evolving? What role can content marketing play in keeping me informed about new developments in my industry to ensure my business stays relevant, informed and profitable?
By looking at the role of content marketing in a consistent, strategic way, integrated with your overall marketing and customer acquisition goals, you're being a smart and highly effective marketer!
Want to know the steps to develop you strategic content marketing plan?
Then you're in the right place!
Let's map some of the different tasks needed in a content marketing strategy with a quick list of things to check:
Determine what content is required across your customer journey or business branding strategy
Evaluate existing content and resources to re-purpose into useful content
Establish a content planning and creation schedule
Develop a brand story to suit your brand's promise, unique value proposition and business goals by establishing tone of voice, style guide and corporate image to ensure consistent messaging
Strategise your marketing processes to ensure the right content is used at the right time on the right media platform
Plan your content strategy for the different channels since each channel has specific characteristics and technical aspects which should be observed to ensure consistent and relevant messaging to your target audience. For example, content strategy for Twitter is different to email or LinkedIn
Create content that is relevant, findable and sharable by your target audience
Establish content-specific metrics and KPIs
Create, source, aggregate, curate optimize website content using proven SEO tactics
Craft content format to suit specific call-to-action, market segment and buyer persona to avoid message fatigue
Link your SEO content to match your prospect's pain points, questions and buying cycle.
Plan marketing campaigns to ensure all marketing activities are aligned and build upon each other
Train your staff to ensure consistent customer experience across all touch points
Analyse competitors, markets and customer needs
Test, optimize and evaluate.
Creating high-quality, original, entertaining copy that empowers, educates and delights your target audience to drive a lasting, mutually-rewarding relationship underpins business growth, stake-holder value and profitability… after all, isn't that the essence of every successful enterprise?
At Say What? I'm a super-keen digital communicator who crafts authentic, original and engaging customer-facing copy for your website, newsletter and blog.
This means, as a specialist who writes unique, relevant and engaging news articles and blog posts to drive traffic, promote customer interaction and improve your search engine ranking, I understand what makes your content shareable!
Why don't you drop me a line to see how we can help you get started today?
I'd love to hear from you!
Elizabeth Lawton